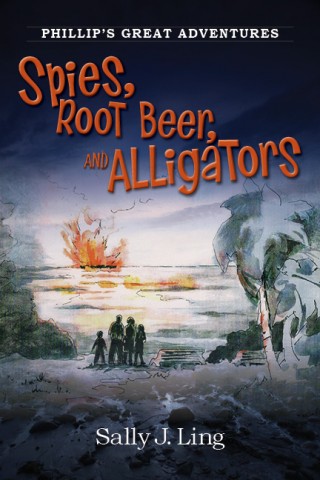 Spies, Root Beer, and Alligators: Phillip's Great Adventures 
 by Sally J. Ling
Phillip's Great Adventures: Spies, Root Beer and Alligators, a historical novel for young people, is based on the real life adventures of the Barrett family, former Boca Raton residents. The book captures the excitement of growing up in Boca Raton during World War II.
Drawing on previous books about the impact of the military in World War II made on Boca Raton, Ling manages to blend the recollections of the Barrett's with the history of the area. The book also features wonderful water color illustrations by Martha Barrett Bell. 
"I wanted to write a book that could be used by classroom teachers to get students excited about local history," said Ling in a recent interview. "I also wanted to write something that would be a good read outside the classroom. I think I succeeded, but it is up to readers to decide." 
Nick Wynne, former executive editor for Chapin House Books, which is owned by the Florida Historical Society Press, commented, "I was most impressed with Phillip's Great Adventures. As an author of children's stories, I realize how difficult it can be to combine learning with entertainment. Sally Ling has managed to do both."
Chapin House Books Press Release
Excerpt from back cover:
      Adam was on his bike headed toward the beach in Boca Raton, Florida to look for treasures washed up by the waves. Instead he bumped into Phillip, a man who enchanted him with tales of adventures growing up on the same beach during World War II. He told Adam of German spies taking up residence in an unoccupied house, of being caught by mitary police at the secret military post, of a giant alligator being delivered to City Hall and of the hunt for a monstrous "devil-fish."
Adam found his treasure, though it was not what he expected. The treasure he found was Phillip's friendship and amazing hair-raising adventures of life in the small town of Boca Raton during the war years.
      This gem is filled with wonderful Boca Raton history and fantastic adventures of interest to any reader young or old.
Betty Grinnan
Former Librarian/Media Specialist
North Broward Preparatory School