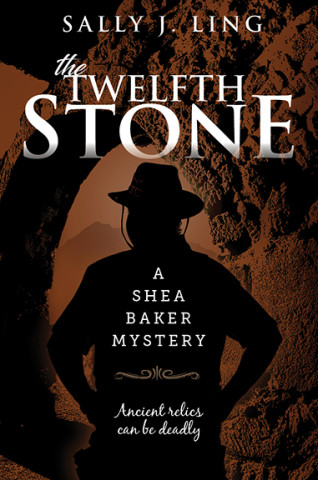 NOW AVAILABLE!!!
The Twelfth Stone is the third in the Shea Baker biblical mystery series. 
Morty Saul, astute business man and member of Temple Beth Shalom in Boca Raton, Florida, has been found murdered in the shul's off-site mausoleum. In an email he sent Shea Baker four days earlier, one that was dumped into Baker's spam folder, he set up a meeting with the freelance writer and referenced the following scripture:
 Joshua 4:4-8
4 So Joshua called together the twelve men he had appointed from the Israelites, one from each tribe, 5 and said to them, "Go over before the ark of the LORD your God into the middle of the Jordan. Each of you is to take up a stone on his shoulder, according to the number of the tribes of the Israelites, 6 to serve as a sign among you. In the future, when your children ask you, 'What do these stones mean?' 7 tell them that the flow of the Jordan was cut off before the ark of the covenant of the LORD. When it crossed the Jordan, the waters of the Jordan were cut off. These stones are to be a memorial to the people of Israel forever. 8 So the Israelites did as Joshua commanded them . . . And the stones are there to this day.
In an article Morty linked to his email, a renowned professor of Jewish history refuted the scripture verses: "Contemporary historians doubt that the Israelites ever crossed the Red Sea or the Jordan River by the parting of their waters. After all, no physical or documented evidence has surfaced to corroborate scripture . . ." he said.
But word has come down that eleven of the twelve stones have been discovered, and the twelfth stone is purported to be in South Florida. Each stone has a Hebrew inscription on it, and the only way to complete the message is to assemble all twelve stones in order.
Did Morty know the location of the twelfth stone? If so, did he discover the meaning of the inscription?
Find out when Shea Baker is once again flung headlong into a mystery of biblical proportions in The Twelfth Stone.