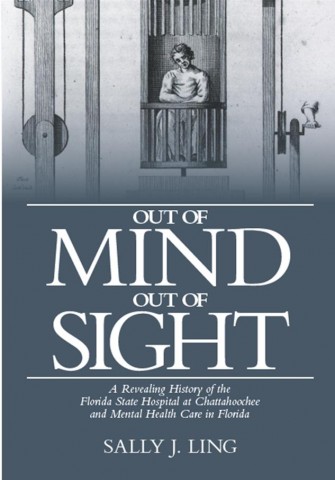 Print or e-book.   Amazon.com
"Working in the mental health field in Florida, this book gives a very broad look into the development of mental health as well as an in depth history of Florida State Hospital. The author lends credibility to this history not only through interviews and photographs but in sharing case studies, official documents and many other resources that help paint a picture of the development of mental health. I believe that it is important to understand where practices and organizations came from in order to make informed decisions and changes for the future. I would recommend this book to any Florida history buff or any person simply interested in the development of the treatment of mental health throughout history. This would also be an interesting resource to anyone working for DCF in the MHTF." – Amazon Reviewer
I came to know of the Florida State Hospital at Chattahoochee, originally called the Florida Asylum for the Indigent Insane, but more commonly referred to simply as "Chattahoochee" by long-time Floridians, back in the 1960s when I first moved to Florida. Its reputation at that time was . . . well . . . pretty bad, but in reality not so different than most mental institutions around the country. But those institutions didn't have the amazing history like Chattahoochee.
From a federal arsenal during the Second Seminole and Civil Wars, to Freedman's Bureau, to Florida's first state penitentiary, and finally to asylum, the Florida State Hospital has a remarkable past. And, when you move into the 1900s, the story reveals more–political scandals, patient abuse, use of treatments such as ECT and lobotomies, and the incarceration of thousands of men, women, and children who weren't really mentally ill at all.     
Set against the backdrop of the evolution of the country's mental heal care system from institutional care to community-based treatment centers, Out of Mind, Out of Sight reveals for the first time the entire history of Chattahoochee. It will also bring you up to date with those who currently occupy the facility–forensic patients, those who have been convicted of a crime but who are considered mentally incompetent to stand trial.
---
See what those in the mental health care field have to say about | Out of Mind, Out of Sight:
"Out of Mind, Out of Sight gives an extensive, captivating, and accurate account of mental health treatment in Florida with special attention to the Florida State Hospital at Chattahoochee. Even though I was on staff at Chattahoochee for thirty-eight years, I discovered fascinating information I never knew. A compelling story, Out of Mind, Out of Sight is written in an interesting and informative way for both professional and lay readers." Sam Cunningham Licensed Clinical Psychologist
"Florida, like many Southern states, lagged in terms of providing its citizens with appropriate mental health care. In Out of Mind, Out of Sight, Sally J. Ling provides a revealing portrait of the Florida State Hospital at Chattahoochee and its travails since its formal founding in 1877. The result is a poignant picture of an institution and demonstrates how far Florida has come in creating a system of mental health care that serves the needs of all of its citizens." Gerald N. Grob, Ph.D. Henry E. Sigerist Professor of the History of Medicine Ereritus Institute for Health, Health Care Policy and Aging Research Rutgers University
---
HAVE  QUESTIONS REGARDING MENTAL ILLNESS?
For information on mental illness or to assist a loved one with mental illness, visit The National Alliance on Mental Illness Florida. 
NAMI Florida 1030 E Lafayette St Ste 10 Tallahassee, FL 32301 (850) 671-4445 Email address: info@namiflorida.org